OUR R&D PROJECTS
Who believes in innovation must invest in research and development.
So we did in Trilogis, to give excellence to our business.
Our R&D laboratory uses the best technological, functional and process knowledge and applies them to our 4 domains to create cutting-edge products and services.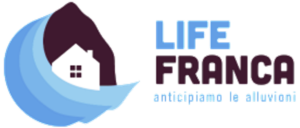 ---
Flood Risk ANticipation and Communication in the Alps
---
EUROPEAN PROJECT – LIFE
⇔
SUCCESSFULLY COMPLETED
---
European LIFE  program (L'Instrument Financier Pour l'Environnement) is the financial instrument of the European Union that co-finances projects for the environment.
The European project LIFE FRANCA aims to understand and anticipate the flood risk in the Alps.
In particular, it has the objective to prepare the population to tackle the floods in Trentino, through a participatory process among citizens, technicians and administrations.