R&D PROJECTS
If you believe in innovation you must invest in Research and Development.
So Trilogis did, to give excellence to its business.
The Trilogis' R&D lab research and disseminates  scientific, technological and functional knowledge.
They are applied mainly to the domain areas of our expertise.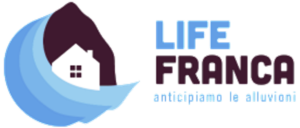 ---
Flood Risk ANticipation and Communication in the Alps
---
EUROPEAN PROJECT – LIFE
⇔
SUCCESSFULLY COMPLETED
---
European LIFE  program (L'Instrument Financier Pour l'Environnement) is the financial instrument of the European Union that co-finances projects for the environment.
The European project LIFE FRANCA aims to understand and anticipate the flood risk in the Alps.
In particular, it has the objective to prepare the population to tackle the floods in Trentino, through a participatory process among citizens, technicians and administrations.