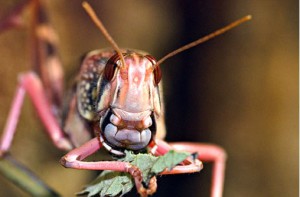 Locusts represent a critical problem in many parts of the world as they destroy harvests. As a consequence lots of populations have nothing to eat. Locust swarms are composed by thousands of locusts and they can move many miles per hour.
Recent climate changes foster the breeding of locusts, worsen damages. Areas most afflicted by this plague are Middle-East, North Africa and Asia.
The Food and Agriculture Organization of the United Nations (FAO) is forefront trying to solve this problem. FAO has created the Desert Locust Watch, an observatory which monitor locust swarms around the world, based in Rome, Italy. One of the main tasks is to collect geographic data to understand where locust swarms are located.
Trilogis has tried to help FAO creating an app: eLocust3D. The desktop version collect updated maps (by NASA satellites) and statistical data (by Columbia University) about the terrain and the weather, for example. The Android version, installed on 375 tablet rugged by Panasonic, using 3D maps guides FAO operators onsite. Hence, operators finally know where they are and which areas need to be checked. Then, they can send these information to FAO in real-time by a satellite connection (Inmarsat).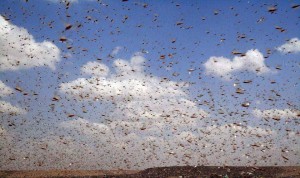 The app has been developed using NASA World Wind and our developers have improved it for Android. eLocust3D thus enhance FAO eLocust3 system through 3D probabilistic maps, a localization service and a real-time connection with Desert Locust Watch, no need of an Internet connection.
Thanks to eLocust3D thousands FAO operators can localize locust swarms (by GPS) using a easy-to-use application installed on rugged devices (Panasonic Toughpad FZ-A1), resistant to water, sand and dust.
Trilogis is proud of its developer and of the the ethic value of this project, as eLocust3D has been donated to FAO.  A special thanks to the following people:
Keith Cressman, Senior Locust Forecasting Officer – FAO (Food and Agriculture Organization of the United Nations);
Patrick Hogan, World Wind Project Manager – NASA Ames Research Center (USA);
Prof. Pietro Ceccato, Head of Environmental Monitoring Program – International Research Institute for Climate and Society della Columbia University (USA);
Fabio Morandi, Mauro Cofelice, Francesco Assini and Elia Lupi – Panasonic Italia;
Nicola Dorigatti and Nicola Meneghini – Trilogis developers.